SEAMLESS OPERATIONS. ZERO EMISSIONS. ELECTRIFIED FUTURE.
EPEC FLOW® – RUNNING SMOOTH.
Our eye is on the bigger picture. With us, you don't get only components, you get comprehensive systems development and delivery. We understand your vehicle as a whole. We make your operations run and business flow.
DELIVERING PROVEN TECHNOLOGY FOR OFF-HIGHWAY AND COMMERCIAL VEHICLE INDUSTRY TO ENABLE ZERO EMISSIONS
Epec Flow is a comprehensive and customizable solution for electrifying non-road mobile machines / commercial vehicles and optimizing their performance and improving total cost of ownership.
EPEC FLOW® SYSTEM
Epec Flow is a solution for electrifying non-road mobile machines / commercial vehicles and optimizing their performance and improving total cost of ownership.
Epec Flow enables freedom to choose electric powertrain components from various suppliers.
• ELECTRIC MOTORS
• BATTERY SYSTEMS
• INVERTERS
• GEAR BOX
• ETC.

PDUS – CONNECTING MACHINE'S HIGH VOLTAGE SYSTEM
IN A SAFE AND CONTROLLED WAY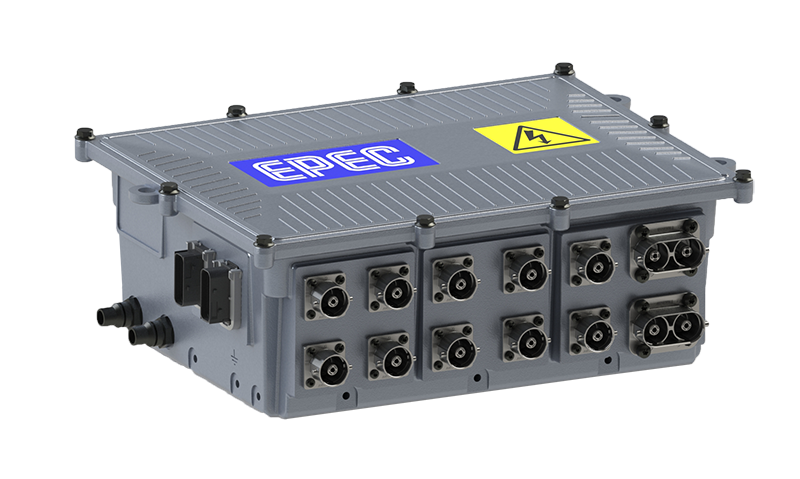 A main unit for connecting high voltage battery, electric motors, auxiliary converters and external chargers
Communicates with the machine's control system
Works as electric safety element in high voltage system
Functional safety is a key element
Up to 500 A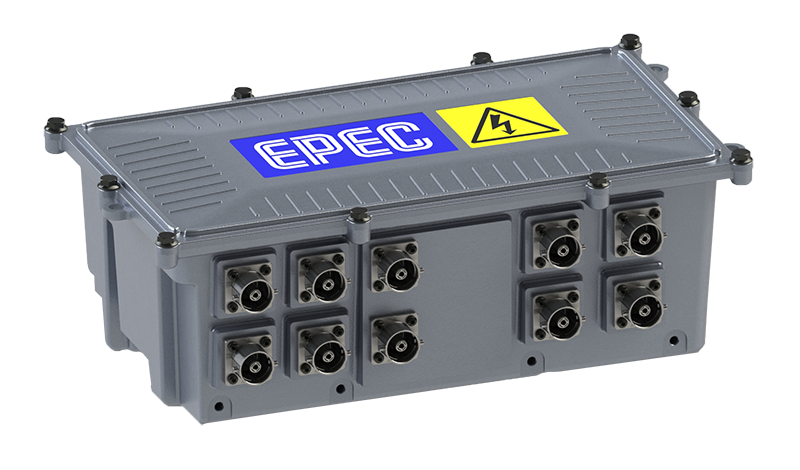 Passive PDUs can be connected parallel to increase system power
Diesel electric system can be built with passive PDU's only
Up to 500 A
EPEC OFFERS COMPLETE SYSTEM DEVELOPMENT AND DELIVERY FOR HYBRID AND ELECTRIC NON-ROAD MOBILE MACHINES AND COMMERCIAL VEHICLES.
CUSTOMIZABLE
Select optimized key components freey from various suppliers and get sourcing support through Epec
Adaptable to different vehicle architectures and topologies
 SEAMLESS INTEGRATION BETWEEN SYSTEMS
Integration of hydraulics, thermal management and gearbox to electric/hybrid powertrain and control system
Enables, for example, developing assistance systems and future technologies
MAXIMIZED OPTIMIZATION
Optimized safety, efficiency, performance and cost
Optimize machine with software updates. Efficiency and productivity can be continuously monitored, maintained, analyzed and improved. 
System engineering & simulations at vehicle level (energy, power and thermal management)
RELIABLE
Proven-in-use hardware manufactured in Finland for global OEM customers according to high-quality standards:
ISO 9001 Quality certificate
ISO 14001 Environmental certificate
ISO 27001 Information security management
ISO 45001 Occupational health and safety certificate
IATF 16949 Automotive Quality System
KNOW-HOW
Testing & Validation support for complete vehicle
Functional safety know-how (IEC 61508 & ISO 26262)
Epec has diverse experience based on longterm cooperation with leading international OEMs in different sectors
Project Management with seamless integration to OEM and key suppliers project teams
Flexible co-development & collaboration
Development and manufacturing of components and sub-systems for hybrid and electric vehicle
SIMULATION-BASED SYSTEM ENGINEERING
Software competence is a key element of successful R&D of future electric and hybrid machines​

Simulations

at

vehicle

level

(energy,

power

and

thermal

management)

​ enable agile SW development

Complete SW development is done according to V-model
From vehicle technical specification to full vehicle testing
Software and mechatronics driven approach
Epec's diverse experience is based on long-term cooperation with leading international OEMs in different sectors. The strength of the company is the combination of innovative and reliable products and services, the holistic view of the complete machine, new technologies, extensive project management and service experience from different types of applications and operating environments.
PONSSE EV1 is a concept forwarder equipped with completely electric drive. Powered by the advanced Epec Flow electrification system, PONSSE EV1 successfully combines sustainability with productivity in modern forestry.
By submitting this form you consent Epec to store and process the information submitted.