Epec GL84 Responder/Slave Unit
EPEC GL84 RESPONDER/SLAVE UNIT
Epec GL84 Responder/Slave Unit is a responder product for centralized control system architecture where one master/central unit controls multiple responders. GL84 has 27 GND pins for sensors and actuators and CAN1 is also routed to M12 connectors for easy wiring. GL84 Responder/Slave Unit's cycle time is extremely fast – it feels like the I/O is actually connected to the master/central unit.
The unit has a housing and connector solution that enables plenty of I/O in a compact housing. The casing works to protect the electronics against mechanical wear. The leak-proof aluminum housing has also been widely tested against different environmental conditions, the housing is even protected against high-pressure washing (IP69).
The unit is equipped with a signal LED for diagnostics. The unit's LEAVYSEAL connectors have integrated strain relief and lever locking that are designed for high vibration environments. Single Wire Seal (SWS) system also ensures safe and robust sealing for wires.
Processor: 32 bit CPU
CAN: 2
I/O: 69 (35 inputs + 34 outputs)
REF pins (5 V): 4
GND pins: 27
5 A POWER_DO outputs
Total current up to 60 A
Three power supply groups – Safety cut-off feature in a group of 10 PWM/DO outputs
IP class: IP69
Temperature range:
-40 … + 85 °C
-40 … +185 °F
Connectors:
2 x LEAVYSEAL 46 pin
1 x LEAVYSEAL 21 pin
2 x M12 5 pin
Programming:
User programming not possible
Device configuring and controlling via Object Dictionary
Supported CAN protocols: CANopen
Three-colored diagnostic LED for quick status check and fault detection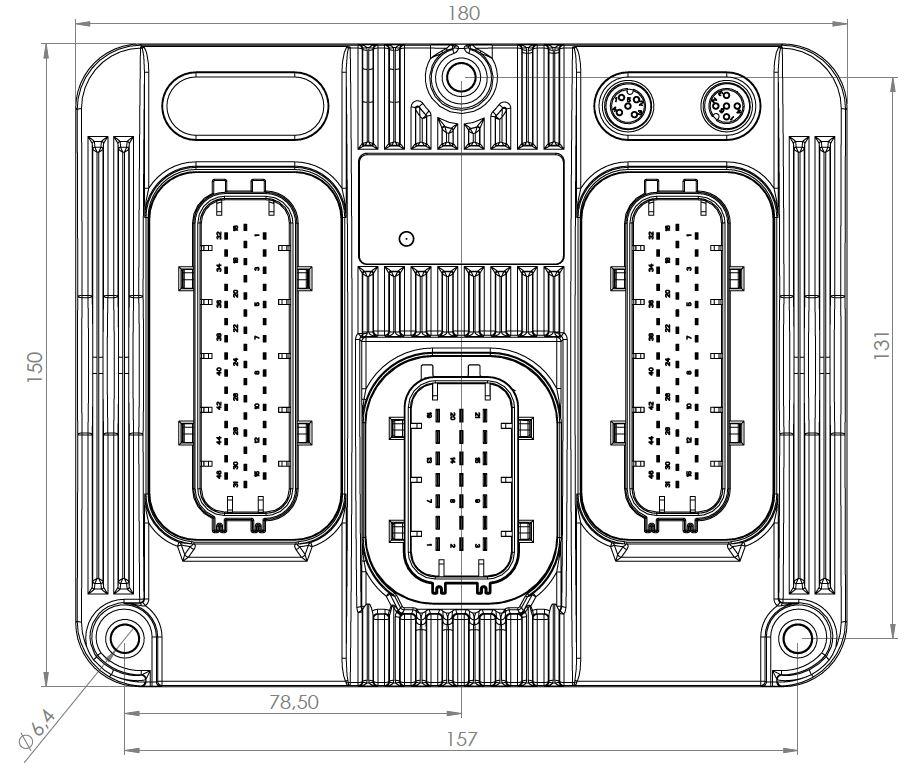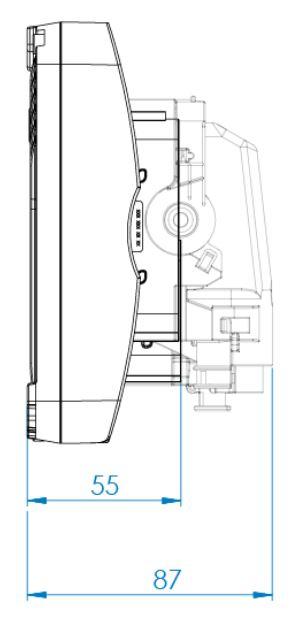 Symbol / Name
Explanation
CE
This product complies with the requirements set in the CE Standard.
E17
This product is certified with normal automotive (E17) EMC (electromagnetic compatibility) standards.
RoHS2
This product complies with the RoHS directive (The Restriction of the use of certain Hazardous Substances in Electrical and Electronic Equipment).
Functional Safety Certification
TÜV SÜD Certification and EC-Type examination no. Z10 003772 0003 Rev. 02
EN ISO 13849 Up to PL d, Cat 3
EN IEC 61508 Up to SIL 2
IEC 62061 Up to SIL 2
Only in combination with an external safety system reaching minimum SIL 1, Cat 3, PL c
Certification also includes yearly Epec factory inspection

| | |
| --- | --- |
| Ordering code | E30SGL84-020 |
| Technical Manual | MAN000685 |
| CAN | 2 |
| 5 V REF | 3 |
| PWM / DO | 20 |
| DO 5 A | 4 |
| DO 3 A | 8 |
| DO (GND) 3 A | 2 |
| AI / DI | 15 |
| PI/DI | 10 |
| PI/DI (threshold 2,6 V) | 10 |
Didn't find what you were looking for?
We also make customized products according to your specific needs!
Contact us for more information.
FINNISH KNOWLEDGE
tested, designed and produced in finland.
Epec control systems are made 100% in Finland. We are a control system expert, specializing in intelligent control systems and information systems for even the most demanding conditions. Epec's organization and processes have been fine tuned to cooperate with large international customers.