EPEC CHRGR – Turbocharge Your R&D Project
Let's create a turbocharged team with your company's and Epec's experts to design a modern control system for you! The process can be completed within four weeks and as a result you get multiple project concepts taking future demands, IoT, UX design and so on into account.
1. WHAT IS IT ALL ABOUT?
New machines and innovations must be launched fast in order to manufacture state of the art machines. For this challenge, we developed the Epec CHRGR.
Control systems for mobile machines are becoming more and more complex, making the start of a new design process challenging. The machine manufacturer may not have the time or the know-how to familiarize themselves with the pre-design of a control system on top of their other tasks. Technology continues to advance at an accelerated pace, creating not only new possibilities, but also challenges in focusing one's R&D efforts.
As a machine manufacturer you know your machines – we know control systems. By combining our strengths, we can create a turbocharged team with multiple expert perspectives for the design of a modern control system.
Benefits
Fast time-to-market
Clear action plan
Minimizing risks
Taking future needs into account
With Epec CHRGR you won't have to learn from mistakes or test ineffective approaches, as our control system experts will guide your R&D process in taking the first steps in the right direction, helping to avoid the waste of your valuable time.
Our extensive experience in control system development also helps to anticipate the future needs of control systems.
 2. WHY USE THIS SERVICE?
Epec CHRGR is a pre-design service, where the experts from the customer and Epec's teams work closely together to achieve the best possible result.
We guide you clearly toward taking the next steps in continuing your control system project with ease. Our most important goal is to find the best possible solution for your new control system, by offering help with:
Different concept options
The right tools, components and technical solutions
Development of complex features
Consideration on functional safety
Utilizing IoT solutions in your machine
UI/UX design
Minimizing technology risks
Consideration of future demands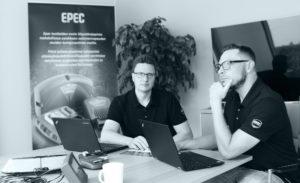 3. HOW LONG DOES THE PRE-DESIGN PROCESS TAKE?
With the help of Epec's specialists it is possible to create a concept within four weeks.
4. DOES EPEC CHRGR PAY ITSELF BACK?
With Epec CHRGR you get a head start and a clear plan of action.
You can avoid unwelcome surprises and minimize technology risks before they result in unexpected costs. Combining different perspectives improves the quality of the control system.
The quick start of your control system project can result in reduction of development costs, as well as speeding of the launch of your new product.
1.Pondering about a control system update?
2. Contact Epec
3. Epec organizes a technical meeting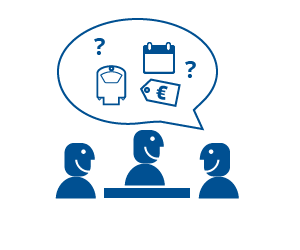 4.Iterative CHRGR process begins
5. CHRGR results are presented
6. Plans into use
→ control system project starts