Epec has developed Power Distribution Unit (PDU) for mobile machine electric powertrain traction voltage applications.
PDU distributes and connects electric vehicle traction voltage components for example batteries, motors through inverters and other components reliably and safely. It also secures traction voltage cables in cable harness in overload situations.
Epec PDU is developed for Heavy-Duty Off-Highway machines and commercial vehicles. Power range is from 100-350 kW, 500-1000V traction voltage with built in advanced thermal management in a component level and system level up to 1000kW.
Additionally, the PDU is designed to be part of the machine safety level up to PL-d. Safety of the high voltage circuit is one key element and Epec PDU complies with EV mobile machines/ vehicle standards on electric safety. Additionally, integrated insulation monitoring system can be used for full electric powertrain electric safety monitoring and alarming by possible cable or component failure event or accidents.
Epec PDU can be used also as a starting point for Original Equipment Manufacturer OEM tailor made PDU.
"Scalability and versatility have been key drivers when developing the PDU. The flexibility of the product enables freedom for OEM:s to select the optimal powertrain system components considering lifetime, performance and cost. The product is designed to be integrated and be a part of the complete vehicle system and the PDU can be adapted to many different vehicle architectures to safely connect vehicle electric powertrain components together. The product has an open programming interface and supports SAE J1939 and CANopen protocols. PDU seamlessly integrates to Epec or third party control system." -Jyri Kylä-Kaila / Managing Director, Epec Oy
The product complies to harsh environmental requirements according to ISO16750. Epec knowledge and experience of control systems for most extreme environmental conditions have been an advantage in the development of the PDU.
The release of PDU prototype widens Epec's offering in Electromobility business and increases Epec's capabilities to support OEM:s in electric powertrain system development.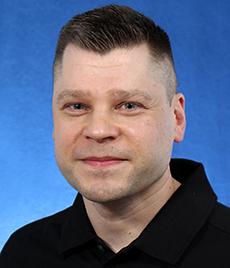 Jyri Kylä-Kaila
Managing Director