Do you have an outdated graphical user interface for your machine or maybe no graphical interface at all? Do you feel exhausted to contact different service providers and trying to get them to work in sync without any information loss? Well, we can provide you with a graphical user interface along with the application programming. And it's all done in one location, so the information flow is optimal; costs are saved when application programmers can be in direct connection with the graphical designer – all the changes can be done quickly and efficiently.
And because everyone wants to get the story straight, here's a brief short story picturing the process we follow. But don't worry, all the phases are customized, as is the interface, to your needs.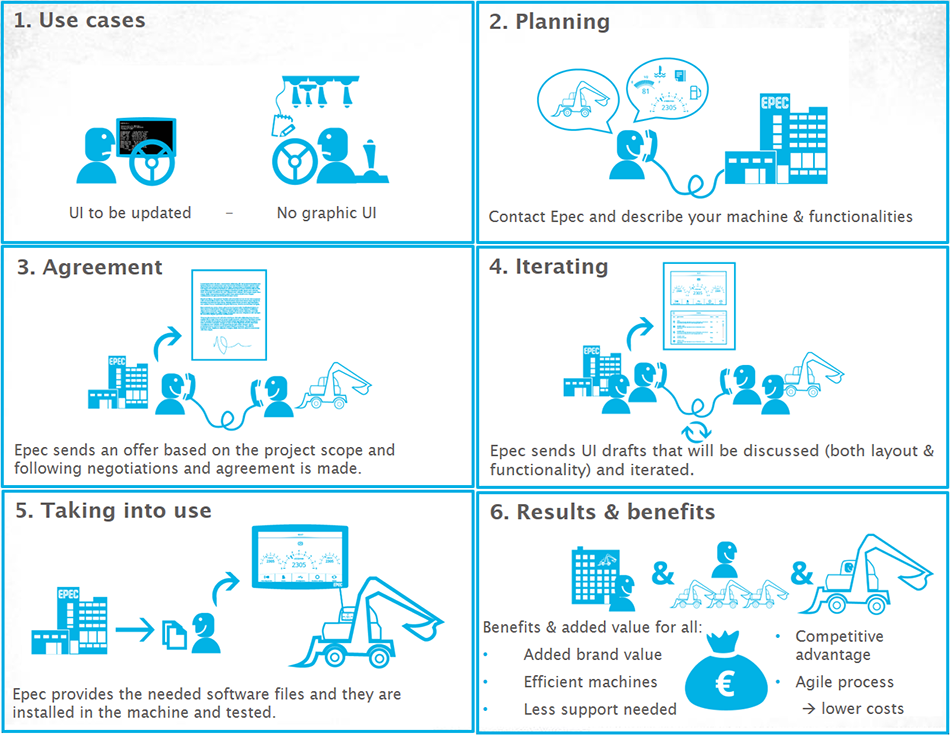 Our default UI layouts are designed according to usability principles and for machine environments. Everything is already optimized for Epec platforms! Overall user experience is taken into account when designing the whole application – our application programmers know the best tricks to optimize a machine control system to save, for example, fuel and service costs. And the graphical interface is designed so that the machine drivers can do their work without hassle or confusion.
Just contact our sales team and ask for a UI offer in case you need one! We'll be happy to provide you with an efficient user interface along with an efficient control system.