Epec's control units and touch screen renew the control practices of Finnish Tume-Agri Oy's seeders. Instead of old mechanical controls, Tume-Agri's new seeder – Draco – has information flowing between Epec's control units, touch screen, and electronic controls from the tractor to the seeder through a CAN bus. The operator can modify the machine's most important features with an easy to read touch screen and follow the progress of the seeding with live camera feed shown on the screen.
– Epec's control system elevates the seeder's usability to the top. On a single screen the operator can view the machine's operating system and follow live camera feed of the seeding process transmitting from cameras located at the back and both sides of the machine. Previously, doing the same thing required two different displays, which meant an investment of over 2000 euros, describes Tume-Argi Development Manager Heikki Sola.
The new control system has enabled the machine to have an added feature alongside already existing ones – splitting the machine.
– With a push of a button, the operator can choose whether the 4 meter wide machine sows at only a 2 meter's width, to the machine's left or right side. For example, at the end of a field, splitting the machine provides a clear benefit in terms of cost savings and environmental savings, because the area to be fertilized is optimized correctly, Sola continues.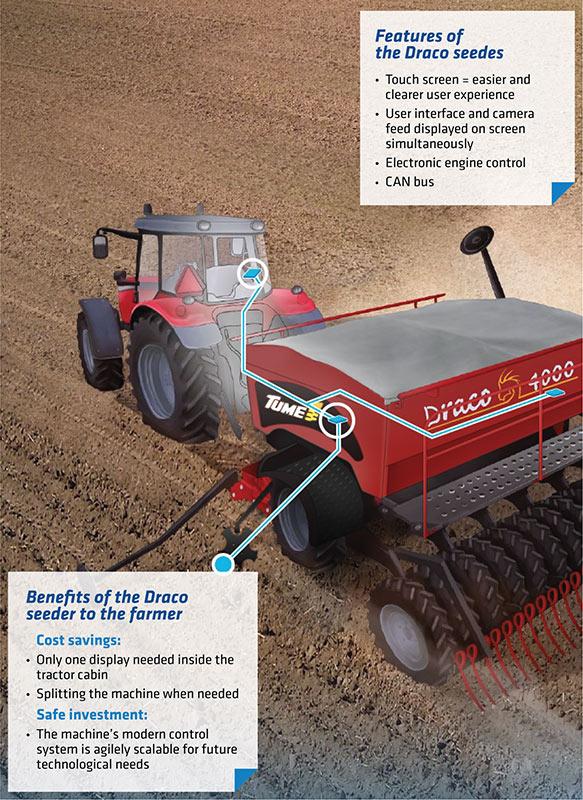 Cooperation with Epec has opened up new development possibilities
For Tume-Agri, partnership with Epec has offered a chance to respond to the development pressures brought on by the IoT.
– Already, the agricultural machinery requires diverse electronic management. In the future, they must be flexibly adjustable in terms of different development needs. Epec's know-how of producing scalable control systems and control devices for demanding circumstances assured us, acknowledges Sola.
"The cooperation with Epec has served both us and our clients. We are now able to offer our clients a machine that you can operate and monitor simultaneously from just one display, which also has the capability to make use of the technology of the future, as well as have lower manufacturing costs than before."
– Kari Sutinen, Product Designer, Tume-Agri Oy
"The pilot project implemented with Tume-Agri showed that our control systems and displays are completely utilizable in agricultural machinery. As the control units are easy to use and can withstand cold, humidity and dirt, they provide a completely new user experience for the Tume-Agri seeders. We arereally excited about this at Epec."
– Hannu Sippola, Epec Oy