EPEC 6107 DISPLAY UNIT
Epec 6107 Display Unit enables remote connectivity and has an excellent sunlight readability, wide viewing angles and high-end graphics. Epec 6107 also has versatile communications interfaces and it offers multiple possibilities for remote access. With its 7″ resistive touch screen it is compact, yet big enough to fit many purposes. Epec 6107 supports both panel and pedestal mounting. Together with Epec's Cloud Services you'll get the fastest to configure and most reliable IoT system/remote management solution in the market.
Epec can also help customers designing a user-oriented UI that makes the machine's controlling and updating efficient.
Processor: 32 bit CPU
Flash memory: 4-16 GByte
RAM: 1024 MByte
Display size and type: Resistive GFG, 7", TFT color LCD
Display resolution: WVGA 800 x 480 (5:3)
Display brightness: 800 cd/

m²

CAN: 2
Ethernet: 2
USB: 2
RS-232: 1
Camera: 2
GSM / UMTS / HSPA+
WLAN
GPS / GLONASS
I/O: 5 (3 inputs and 2 outputs or 5 inputs and 0 outputs)
IP class: IP65
Temperature range:
-30… +70 °C

-22…+158 °F

-30… +55 °C with 2G/3G/GPS option
-22… +131 °F with 2G/3G/GPS option

-30… +60 °C with WLAN option
-22… +140 °F with WLAN option

Connectors: 1 x AMP23, 2 x M12, 3 x SMA
CODESYS version: 3.5 SP13
Supported communication protocols: CANopen, SAEJ1939, MODBUS, NMEA 2000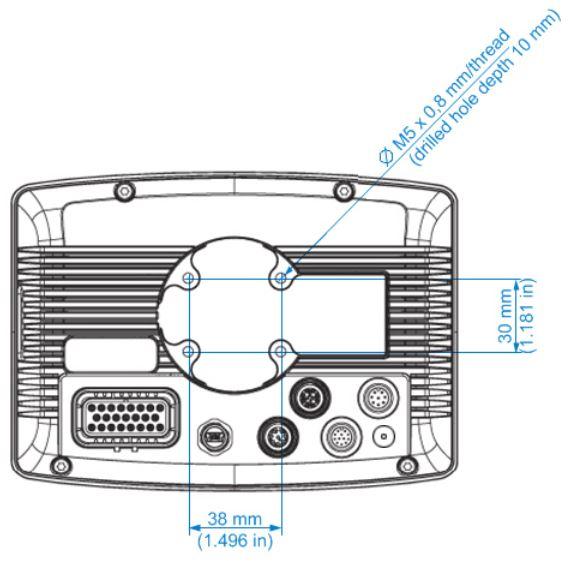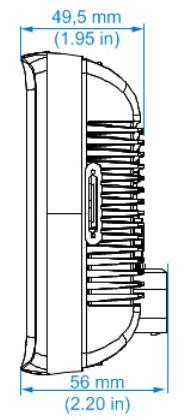 Measurements for 6107 with a panel mounting frame: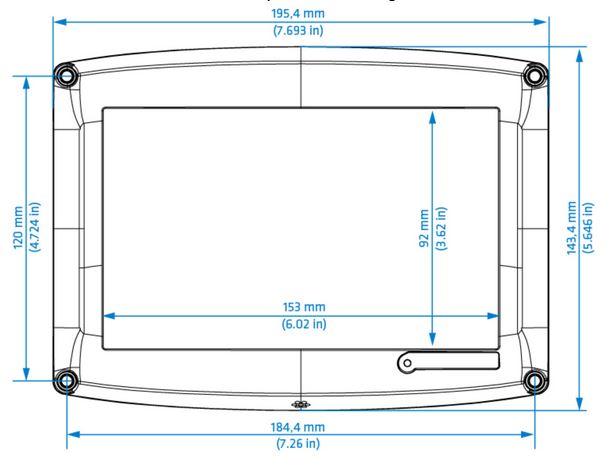 | | |
| --- | --- |
| Symbol / Name | Explanation |
| CE | This product complies with the requirements set in the CE Standard. |
| E17 | This product is certified with normal automotive (E17) EMC (electromagnetic compatibility) standards. |
| RoHS2 | This product complies with the RoHS directive (The Restriction of the use of certain Hazardous Substances in Electrical and Electronic Equipment). |
| RCM | This product complies with the ACMA (Australian Communications and Media Authority) regulatory arrangements concerning electromagnetic compatibility and radio equipment. |
| Radio Equipment Directive | Epec 6000 series units comply with Radio Equipment Directive (2014/53/EU). |
| EU declaration of conformity | This device is in compliance with Directive 2014/53/EU. For more information, refer to the product's technical manual. |
| | |
All of the communication interfaces are optional, you can select the ones you need.
Ordering codes:
No wireless communication:
E30D6107-22 (camera input)
E30W6107-22 (camera input with WebVisu)
E30D6107-42 (camera input, panel mounting)
E30D6107-12 (no camera input)
E30D6107-52 (no camera input, panel mounting)
With wireless communication 2G/3G/GPS/GLONASS or WLAN:
E30D6107-02 (2G/3G/GPS/GLONASS)
E30D6107-02A (2G/3G/GPS/GLONASS, with Epec Connectivity)
E30D6107-03 (2G/3G/GPS/GLONASS, panel mounting)
E30W6107-03 (2G/3G/GPS/GLONASS, panel mounting, WebVisu)
E30D6107-03A (2G/3G/GPS/GLONASS, panel mounting with Epec Connectivity)
E30W6107-03A (2G/3G/GPS/GLONASS, panel mounting with Epec Connectivity and WebVisu)
E30D6107-64 (WLAN)
E30D6107-84 (WLAN, panel mounting)
Manuals:
FINNISH KNOWLEDGE
tested, designed and produced in finland.
Epec control systems are made 100% in Finland. We are a control system expert, specializing in intelligent control systems and information systems for even the most demanding conditions. Epec's organization and processes have been fine tuned to cooperate with large international customers.