Release of Epec SDK 4.0

Epec has released the last SDK of this year. The SDK 4.0 including Epec MultiTool 6.8 has support for the recently released Epec 6505 Display Unit and updates for 3000/4000 series control unit products and Epec GL84 CANopen slave. MultiTool 6.8 supports a CANopen slave EDS file change related to the Epec GL84 product.
New control unit firmware releases for GL84, EC44 and 3000/4000 series
Epec GL84 slave controller firmware 1.1.0.0 and new EDS 1.1
Epec has released a new firmware version 1.1.0.0 and new EDS 1.1 for the GL84 CANopen slave device.
The main changes in this new release are:
– Peak and hold power saving output feature of PWM/DO pins
– Time stamp of the PI/DI input pins including selection of rising or falling edge time stamp or both
– A fix related to external voltage on DO pins
On the release date Epec shall update all GL84 product codes in Epec production with the latest firmware. Please note that this change concerns both Epec product codes and the customer specific product codes.
Epec EC44 has a new firmware 1.1.0.39030
On the 4th of December, Epec released a new firmware for the EC44 Control Unit including a new BSL reset feature and fixes related to CODESYS communication and CAN messages.
Updated EC44 technical manuals: MAN000713, MAN000715
More information about BSL pin in the Programming & Libraries Manual: MAN000538 (SDK 4.0)
New firmware 1.176 for 3000/4000 series controllers
Epec 3000/4000 series controllers have a new firmware version 1.176. As a new feature, this firmware supports Pulse Input edge selection in frequency mode, which has not been available in the previous firmware versions.
On the release date, 18th of December, Epec shall update all 3000/4000 series Epec
product codes (E30Bxxxx and E30Exxxx) in Epec production with the latest firmware. Customer specific product codes shall be updated when agreed with the customer.
New Epec 6200 Remote Access Unit variant
Epec has released a new variant E30M6200-222. This version replaces the 3G radio variant of 6200 and has global 4G/LTE radio and GNSS receiver connectivity and CODESYS Webvisu. Please contact Epec for more details of the new variant.
Epec CANmoon 3.3 released
On the 26th of November, Epec released a new version 3.3 of CANmoon diagnostics and update tool.
Version 3.3 supports Epec's new products, 6505 Display Unit and SL84 Safety Control Unit. CANmoon 3.3 also includes the new kvasercan.dll which boosts CANmoon operation significantly.
Release date 18.12.2020.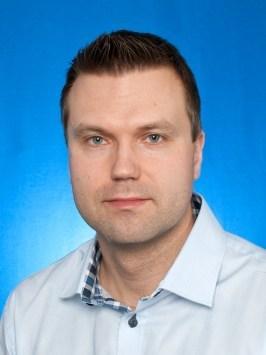 Kari Ahvenlampi
Product Portfolio Manager