With a control system from Epec, Norwegian Orkel AS highlights their excellence as a compactor manufacturer. The control units and touch screens in Orkel's new compactors, the Dens-X for the agricultural sector and the Hi-X for the industrial sector, give the client a wide selection of pre-installed programs and an easy to use user interface that overcomes language barriers. The new system does not require machine-specific knowledge for entering settings, but the right settings are defined with the graphic user interface based on the materials to be baled.
an Epec Control System Provides an Outstanding User Experience for Orkel Compactors with a Clear and Easy to Use Interface
"Because of the control system, the machine's operator can control and adjust all functions of the compactor material feed, compaction and wrapping. The operator can create customized settings in addition to the pre-defined programs that are set up at the factory. E.g. the operator may store one set of setting for baling a wet material, and one for the material when dry. Using the compactor is efficient, and the operator spends less time in preparing the machine for work at each new work location; when instead of a time consuming preparation stage, the machine's settings are already optimized", describes Raine Röyskö from Epec.
For the user, the new control system materializes as a high quality and efficient Epec 6107 Display Unit touch screen – the use of which is considerably simpler due to easy to read icons and an intuitive parameter layout. The read-ability of the screen remains good due to a background lighting, even in direct sunlight. Also, because of a wide viewing angle, the user can tell what the currently active functions are while moving around the machine and looking at the screen from different angles.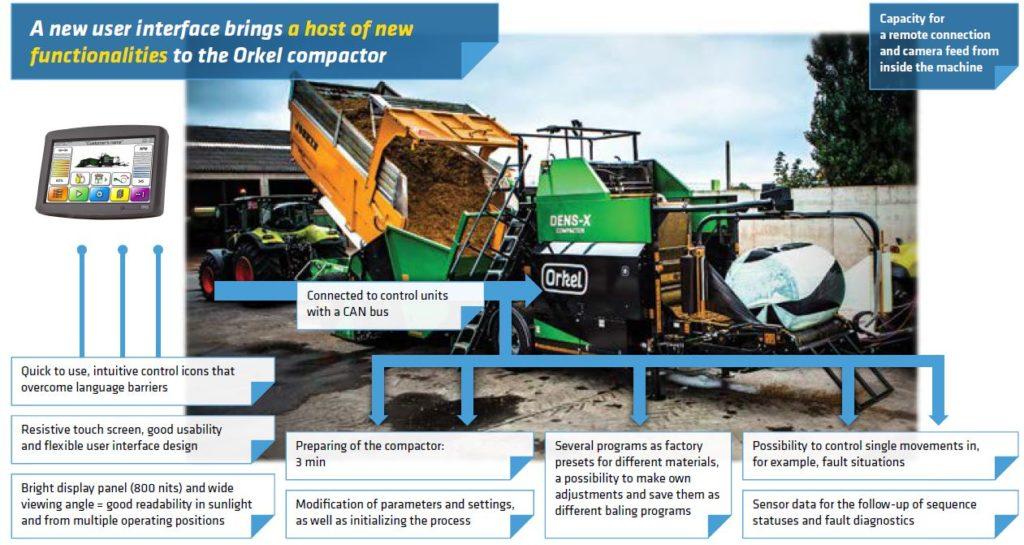 A catalyst for cooperation was the open programmability and solutions designed for challenging conditions
Through open programmability, Orkel is able to implement the system development with agile methods and maintain the system according to their clients' needs.
"We like to offer our clients tailored solutions and develop our machines' control system to fit every special need. Epec's flexible overall solution and software allows us to further develop the control system our self and provide even better usability and performance. Lastly, our new compactors are used in conditions where dirt, dust and small metal particles are daily life. Epec's control systems suit the machines superbly, because they can withstand the most demanding operating environments", Skråstad applauds the cooperation.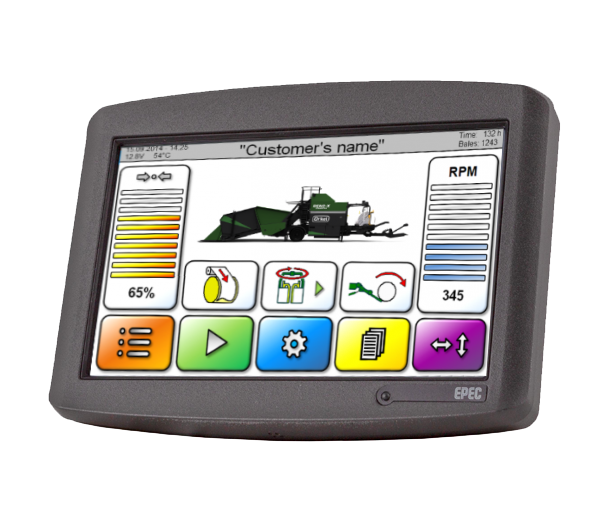 "The icons on the screen open up completely new business opportunities for us, because the symbols and pictures overcome all language barriers. For our clients, the new user interface creates considerable cost savings due to lesser training needs and fewer potential operator errors."
– Halvor Skråstad, Orkel AS
"The PC software and application libraries developed by Epec make it considerably easier to implement CODESYS-based control systems. At Orkel, these have been embraced quickly and they give the company a remarkable competitive advantage in the markets, where reacting to customer needs both quickly and flexibly is essential."
– Raine Röyskö, Epec Oy