EPEC ACTIVE PDU
Traction voltage POWER DISTRIBUTION UNIT FOR ELECTRIC VEHICLES TRACTION AND AUXLIARY HIGH VOLTAGE SYSTEMS INCLUDING:
 Active unit include traction voltage contactors and contactor controls with Voltage and current measurement units.
Pre-charging circuit to balance voltage levels before and after contactors
Service charging circuit with contactor switching
High voltage circuit insulation resistance measurement & monitoring
Fuse protection for high and low current component output
Hazardous voltage interlock loop (HVIL)
Feature
Value
Note
Connection
CANopen interface ( SAE 1939 support also )
12 or 24V operating voltage for PDU controller
Operating Voltage
500-900 V
1000 V optional
Operating current
250 A (RMS)
Continous current
Current peak
500 A
10s
HW Connections
4x High current IO (250A RMS)
3x Low current IO(30A RMS)

IO's and connection types can be varied based on customer need
Safety
All connections IPXXB, service switch included
Service switch with main fuse or without
Battery connection
Main contactors for battery IO separation
Pre-charging circuit

600A max switching current
Insulation monitoring
Full HV-system monitoring,
Alarming limit: min 500 kΩ
Sensors
Voltage (Battery and HV grid)
Current (Battery and HV grid)
Temperature

-
HVIL circuit
Covers and connectors included
Safety lid included ( min10s safety time from cover opening) redundant cover opening circuit.
Fuses
High current IO up to 500A /900Vdc
Low current IO up to 50A /900Vdc

Fuse sizing shall be done at integration project with customer
Control system
Epec controller
Optionally functional safety level PLd / Sil 2 compliant controller
Operating condition
In operation -40 °C to +60 °C
IP67 and IP69K
Max 2000 m

Designed for harsh environment
Size
A-sample: 632,9x369,1x173,0 mm
-
Output power (continuous)
100- 225 kW
-
| | |
| --- | --- |
| Overall dimensions | 632,9 x 369,1 x 173,0 mm |
| Weight | 21 kg |
| Mounting to vehicle | All other orientation allowed than Cables upside and service switch upside. |
| Mounting | Customer designed brackets |
Main dimensions illustrate prototype development status and may subject to change.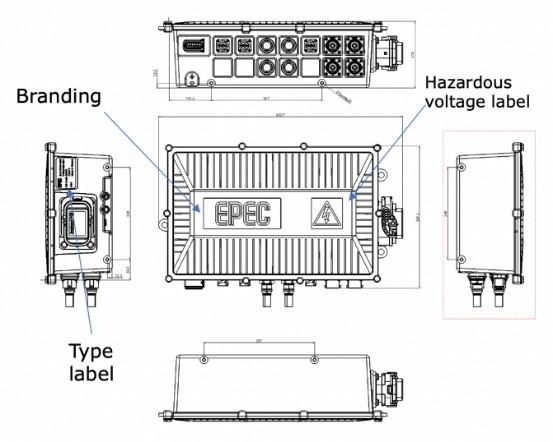 Simple High voltage circuit control block diagram for active PDU
• Control unit: Epec
• Insulation monitoring
• Voltage measurement
• Current measurement
• Main contactors: 600 A
• Pre-charge and charging relay: 100 A
• Service switch: 350-500 A
• Temperature measurement inside PDU
• HVIL loop for all connectors and covers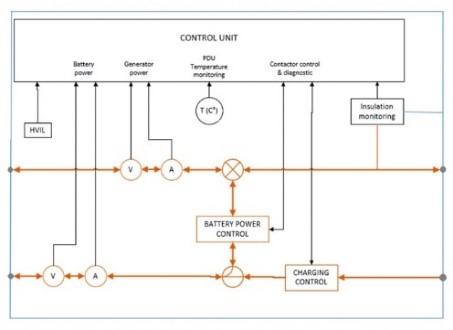 FINNISH KNOWLEDGE
tested, designed and produced in finland.
Epec control systems are made 100% in Finland. We are a control system expert, specializing in intelligent control systems and information systems for even the most demanding conditions. Epec's organization and processes have been fine tuned to cooperate with large international customers.
Harsh conditions?
Bring it on!
All Epec control units are designed and manufactured to  withstand harsh conditions:
high mechanical shocks and vibration, heat, cold and different chemicals.