Epec EC44控制器
Epec EC44控制器具有强大的 32 位处理器和大容量内部存储空间,专用于应用程序和参数的存储。Epec EC44控制器配备了带有高侧电流测量的 16 个输入接口和 16 个输出接口,两根 CAN总线和一个显示状态的 LED灯。Epec EC44控制器基于CODESYS3.5进行编程,支持使用Epec PLC程序库、Epec MultiTool和CANmoon工具。Epec EC44控制器具有IP69 防护等级的坚固全铝外壳,并配有一种专为高振动作业环境设计的杠杆锁定连接器。
Epec EC44 has a powerful 32-bit processor and large internal memory for application and parameters. EC44 has 16 inputs and 16 outputs with high-side current measurement, two CAN buses and a status LED. EC44 is based on CODESYS3.5 programming and supports Epec PLC libraries, Epec MultiTool and CANmoon tools. EC44 Control Unit has a robust full aluminum housing with IP69 protection and a lever locking connector designed especially for high vibration environments.
Processor: 32 bit CPU
Application SRAM up to 1 Mbyte
PLCopen application size: up to 1024 kbyte
CAN: 2
I/O: 32 (16 inputs + 16 outputs)
IP class: IP69
Temperature range: -40 … + 85 °C
-40 … +185 °F
Connectors: 1 x LEAVYSEAL 46 pins
CODESYS version: 3.5
Supported CAN protocols: CANopen, SAEJ1939
RGB diagnostic LED for quick status check and fault detection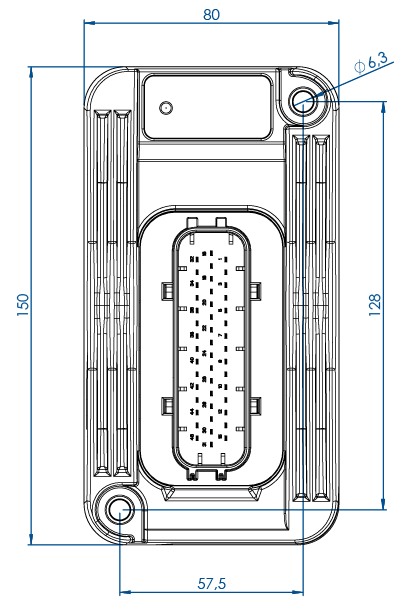 | | |
| --- | --- |
| Symbol / Name | Explanation |
| CE | This product complies with the requirements set in the CE Standard. |
| E17 | This product is certified with normal automotive (E17) EMC (electromagnetic compatibility) standards. |
| RoHS2 | This product complies with the RoHS directive (The Restriction of the use of certain Hazardous Substances in Electrical and Electronic Equipment). |
FINNISH KNOWLEDGE
tested, designed and produced in finland.
Epec control systems are made 100% in Finland. We are a control system expert, specializing in intelligent control systems and information systems for even the most demanding conditions. Epec's organization and processes have been fine tuned to cooperate with large international customers.
Harsh conditions?
Bring it on!
All Epec control units are designed and manufactured to  withstand harsh conditions:
high mechanical shocks and vibration, heat, cold and different chemicals.